What is the difference between a sworn translation and a certified translation?
Will this certified translation be recognised by national authorities?
Do I need a signature to be legalised (or notarised)?
Will I receive a digital version of my certified translation or a printed copy?
How many copies of my certified translation will I receive?
Can I carry out the translation myself and simply ask for it to be certified?
What can I do if I need a faster delivery than that offered on the website?
Can you convert my academic grades or provide an equivalent when translating academic records?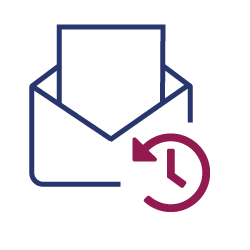 Your certified translation.
Quick delivery by e-mail or postal mail.
Lead times and processing terms
Delivery of your certified translation in 72 working hours as PDF file.