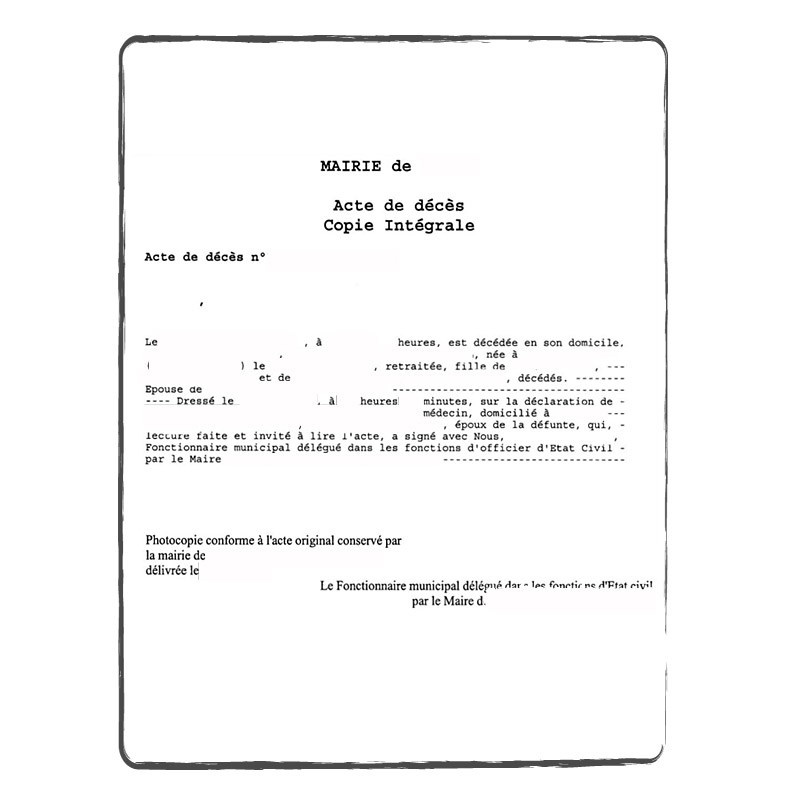  

Secure payment


Validity of our certified translations abroad

Lead times for PDFs and conditions for delivery
Prices vary according to language pair
Death certificate - certified translation
Certified translation of a death certificate by a sworn translator.

Uploading your documents: You can upload your documents (PDF, JPEG or ZIP) to the cart before clicking on the "CHECKOUT" button. If you have any issues uploading your documents, feel free to send us the files .
Can't find the right product for your document? Send us a certified translation request through our online form or by email. Please make sure to include the documents you need to have translated along with the target language for the certified translation.
Our translations are recognised and accepted by foreign administrations. You will receive a professional translation, produced by one of our sworn translators:
certified by the Cour d'Appel (Court of Appeal) in France, for translations into French, English, Italian and Dutch
certified by the Landgericht (State Court) in Germany for translations into German
certified by the Spanish Ministry of Foreign Affairs for translations into Spanish.
Our work always includes the following services:
Layout (similar to the original, as far as possible)
Translation in accordance with legal standards
Printing and certification of your document
You will receive the translation by e-mail (PDF) and by standard post (included in the rate).
Certified translations can be ordered directly online in the following languages: English - French - German - Arabic - Spanish - Dutch - Italian - Chinese - Polish. For any other language, do not hesitate to contact us by email or by telephone!

Secure payment


Validity of our certified translations abroad

Lead times for PDFs and conditions for delivery
Your certified translation. Quick delivery by e-mail or postal mail.
Delivery of your certified translation in 72 working hours as PDF file.
---
Can't find your document?
Your language combination isn't available?
We'll send you a free customized quote -
in less than 60 minutes during office hours!

IMPORTANT !
Please note that you must send us the romanised spelling of the names on the document (step 4 of the order or e-mail) before we can process your order.